So the funny thing about going to a "white trash" party in Silverlake (okay, it was technically in Los Feliz) is that people don't know you're joking when you're dressed like this:
That's Kyle and yes, that is
The Dance Scene
on my TV. Kyle is rocking jorts he JUST created with my scissors, wearing a visor and advertising the ever-so-classy Miller Genuine Draft 40 (honestly though, they were delicious). I will not show you what I was wearing but will admit I was ALSO in jorts AND a jean jacket, so obviously I looked beautiful.
My friend Deanna was throwing the party with her neighbor Adam. Deanna is an actress AND was in Maxim's hot 100. Seriously, she is extremely ugly: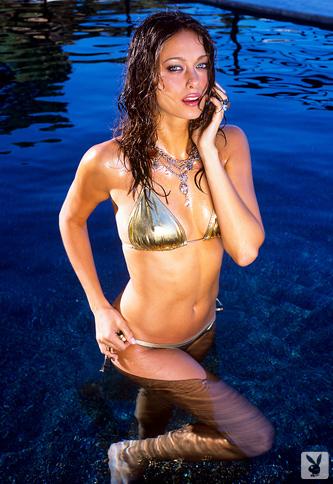 Told ya. Deanna is also actually GOOD at acting and ridiculously NICE so clearly I hate her, but went to her party anyway. It was perfect. There was plastic bowling, horseshoes, hamburgers, and a birthday cake made of Twinkies (I don't know who it was for, sorry. Happy birthday stranger!). Then a group of us walked to Tiki-Ti, which is maybe the coolest bar on the planet:
http://www.tiki-ti.com/pages/home.html
It is this TINY shack on Sunset that is somewhat outdoor (I think there are holes in the roof?) so you can smoke inside (MOM DON'T WORRY, I DO NOT SMOKE) and get just about any cocktail you can think of. I had a Missionary's Downfall, which is SORT of like a Mojito with the muddled limes and mint, but with an added element of some dark delicious liquid. Everyone got something different and we watched
The Shawshank Redemption
on silent in the bar and loved every minute of it. Unfortunately, Kyle had changed out of his ensemble at this point and I was still wearing my Canadian tuxedo. And cowboy boots and giant hoop earrings and a sports bra with a cut off tank top barely covering it. But no one seemed to notice...maybe because they were overwhelmed by my sexiness. Anyway, it was just a typical Saturday in Silverlake: good friends, great drinks, and an outfit made entirely of denim.